"Our commitment is to mutually work with communities to improve their quality of life, while continuing to safeguard the environment."
NASSF Travel is a personalized travel agency, focused on sustainable tourism. Aimed at specialized tourists and / or researchers who get involved in a more direct and participatory way in a sustainable way; interested in the protection of endemic species in danger of extinction, accompanying on vacations aimed at a better understanding of nature from a scientific point of view, with respect for the natural environment and its population. In that sense, we work with native and rural communities that truly take care of their nature.
Nassf – Sustainable Nature Without Borders is created as a result of two scientific investigations in the depths of the jungle, carried out by Liccet Suarez, who grew up loving the Peruvian jungle because his father Risto Suarez and his grandmother Lucynda Gonzales were natives of these parts; meanwhile, they taught him the true secrets of the Amazon, and, above all, love and respect for its people and its nature. It is, therefore, that in his first trip to the jungle, he identified the Shipibo Conibo community of San Francisco in Pucallpa in 2000 and returned to enter the community in 2003, where he carried out his first scientific research in Tourism. Subsequently, the second scientific investigation was motivated and encouraged by the protection of the yellow-tailed woolly monkey, a species in danger of extinction. Looking for protected natural areas where they house this species is that he manages to find the Matsés National Reserve in Loreto and decides to go into the Matsés community to generate scientific research according to the potential that the area presents, he came to make a Proposal of Sustainable Scientific Tourism in the Matsés National Reserve for foreign tourists. There is also a commitment to both native communities, to work together to improve their quality of life, while still safeguarding the environment. Therefore, we decided to start a personalized travel agency specialized in sustainable tourism, with the full commitment to respect and balance between the social and the economic, where not only the business community benefits.
But the communities involved; even more so, when it will provide them with job opportunities, according to their talents and particularities. And, without neglecting the care of customs and traditions so that they can be maintained over time for future generations; as well as offering a fair and balanced trade, without neglecting the care of the natural environment.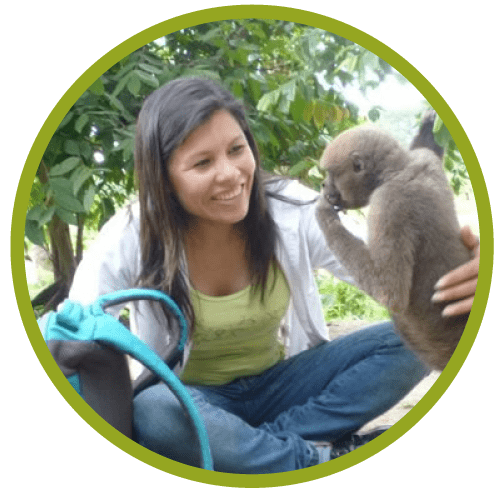 LICCET SUAREZ
FUNDADORA Y GERENTE GENERAL
Liccet studied Tourism and Hospitality. Likewise, he has completed a Master's Degree in Tourism and Hotel Marketing. Also, he studied Doctorate in Tourism and Doctorate in Business Administration. His passion for travel and adventure began at a very young age. This passion and love for the Amazon and the Peruvian highlands translates into their value and respect for the communities and admiration for the effort they make to improve their quality of life day after day. He has worked for many years in Tours Operators that are international travel agencies. His passion for travel and getting to know deeper Peru even more, as well as his experience within the tourism sector are good reasons to continue working together with the communities.
LEYLA SUAREZ
CO-FUNDADORA Y GERENTE COMERCIAL
Leyla studied Tourism and Hospitality, has traveled to different parts of Peru and with this she has developed her capacity for sensitivity regarding sustainable tourism and the capacity for empathy with the different cultures of her country, thanks to that she has established good relationships with the different communities. She is an admirer of music, art and nature. Many of his travels have been linked to the discovery and interpretation of traditional and vernacular music.
Recognition of the First Sustainability Report through the Competitive Business Program for SMEs through the Global Reporting Initiative – GRI, contributing to a Sustainable Peru