AM: Arrival at Baltra airport
Departure to the Galapagos Islands. Arrival at the Baltra Island airport with reception from the naturalist guide from the National Park.
PM: Parte Alta
The visit can begin from Puerto Ayora or from Baltra, the upper part of Santa Cruz is about 45 minutes away by bus and stands out for being an extremely green area throughout the year. Here, you will visit one of the giant tortoise reserves (which can weigh more than 300 kg) to observe these gentle giants in their natural environment.
These humid forests are also excellent for viewing species of finches and other birds that are not seen in the arid areas near the coast.
You will also visit a lava tunnel (depends on the itinerary) and understand the origin of these curious geological formations.
Attractions: Giant tortoises, Darwin's finches, owls, patillos, flycatchers, lava tunnels and native plants.
Trail: 1-1.5 km
Meals: Lunch and Dinner
Lodging: Bonita Yacht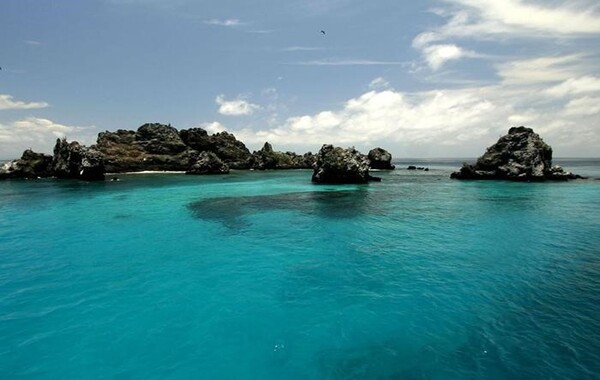 AM: Punta Cormorant / Crown of the Devil
Exploration of a saline coastal lagoon where you will observe coastal birds, ducks and an important colony of pink flamingos.
The trail also allows to visit a beautiful beach of very fine coral sand, which is one of the most significant nesting places for sea turtles in the Galapagos.
It is also common to see blue sharks and rays while walking barefoot on the beach.
Snorkeling: It can be done in the famous Corona del Diablo, considered one of the best diving spots on the islands, due to the enormous number of fish, reef sharks, rays, and turtles.
Attractions: Sea lions, pink flamingos, patillos, white sand beach, nesting sea turtles (Dec-May).
Trail: 1.6 km
PM: Post Office Bay
During the time of the whalers, this bay was regularly used as a resting place and to stock up on water that they had to obtain from the upper part. That is why the crews used a barrel to leave messages that were passed from one ship to another. This centuries-old tradition continues to this day.
It is possible to take a boat tour to see sea lions, turtles, shore birds and with some luck, Galapagos penguins.
After the visit to the mail barrel, you can enjoy the beach to swim or snorkel.
Snorkeling: It can be done from the beach or from the boat. There are lots of sea turtles, tropical fish and hopefully penguins.
Attractions: Barrel Mail, sea lions, iguanas, sea turtles, sharks, and rays.
Trail: 0.7 km
Meals: Breakfast, Lunch and Dinner
Lodging: Bonita Yacht
AM: Punta Suarez
This rocky trail is an experience for any wildlife lover. From the moment of disembarkation and throughout the entire route, the quantity, and variety of fauna is truly impressive. Sea lions and marine iguanas will welcome you, giving way to colonies of seabirds, including blue-footed and Nazca boobies, seagulls and tropical birds.
In the farthest part of the trail you will have the opportunity to visit a colony of wave albatross. The largest bird on the islands and one of the most interesting, both for its powerful flight and for its elaborate courtship ritual.
Attractions: Wave albatross, sea lions, marine iguanas, Galapagos hawks, Nazca and blue-footed boobies, tropical birds, nocturnal gulls and lava lizards.
Trail: 1.7km
AM: Gardner Bay
Gardner Beach is, without a doubt, one of the most beautiful on the islands, both for its pristine white sand and for the turquoise blue water that surrounds it. An important colony of sea lions is lucky to inhabit this beautiful place.
Walk along the beach while watching the games of the sea lions in the waves or the marine iguanas sunbathing on the rocks.
Snorkeling: There are several places where you can snorkel in the area, all of them excellent for seeing large amounts of fish and also with great opportunities to swim with sea lions.
Attractions: Beautiful white sand beach, sea lions, marine iguanas, Spanish mockingbirds and Galapagos hawks.
Trail: The beach is 500m long
Meals: Breakfast, Lunch, Dinner
Lodging: Bonita Yacht
AM: Interpretation Center / Sleeping Lion
Located just outside of town, this center is dedicated to the human history of the Galapagos. From the days of the first Spanish explorers to the present, including whalers and famous visitors such as Charles Darwin, this permanent exhibition will take you through the dangers and privations that the first settlers had to endure to survive in the harsh environment of the Galapagos Islands.
Attractions: Endemic plants, exhibition of human history.
Trail: 0.2 km
This impressive rock formation rises from the seabed to a height of about 140 m. Numerous seabirds nest on its vertical cliffs, including seagulls, boobies, tropical birds and frigate birds.
Snorkeling: When the sea is calm you can see many sharks, turtles, rays and a wide variety of fish.
Attractions: Sleeping Lion Rock, sea lions, blue-footed and Nazca boobies, tropical birds and frigates.
PM: Lobos Island
Isla Lobos is a small islet located near Puerto Baquerizo Moreno. It has a rocky trail, but despite its small size, this island has plenty of wildlife, including a small colony of blue-footed boobies, frigate birds, and many sea lions. If there is time, you can also snorkel.
Snorkeling: Excellent place to swim with sea lions, sea turtles, rays, and lots of fish.
Attractions: Sea lions, courting frigates, blue footed boobies, marine iguanas, snorkeling with sea lions and turtles.
Trail: 0.6 km
Meals: Breakfast, Lunch and Dinner
Lodging: Bonita Yacht
AM: Bachas
At low tide, you can still see the metal skeletons of these structures. Between November and May, this beach is a very important nesting area for sea turtles. In addition, there are several salty lagoons where we you can see flamingos and other birds typical of coastal wetlands.
Snorkeling: After the walk, you can swim or snorkel from the beach. There are excellent rocky areas to see a great diversity of fish, octopus and with some luck, blue sharks.
Attractions: Flamingos, patillos, shore birds, lava gulls, boobies, white sand beach.
Trail: 1.6 km
Transfer Out
Transfer to the airport to take your flight back to mainland Ecuador.
Meals: Breakfast
End of our services
Terms and Conditions
To reserve you need: complete information, date of birth, ID and/or passport, food requirements, among other details that are deemed appropriate according to the service.
The 100% deposit must be made before the travel date. (In case of special deadlines it is prior coordination).
Company data:
Company name: Naturaleza Sostenible Sin Fronteras SAC
RUC: 20550942179 – Tax address: Jr. Olmedo 537 int. A 302 Brena
Credit Bank of Peru
Savings Account in Dollars: 191 – 71499633-1-49
Interbank Account Code: 002 191 17149963314957
Bank swift code: BCPLPEPL
Note: Send payment voucher to email: liccet@nassftravel.com or WhatsApp: +51 971881685
The passenger accepts the terms and conditions at the time of making the reservation. In case of non-attendance, the traveler loses 100% (Non-refundable), date changes at least 30 days in advance. In the case of being a group or couple, if one of your companions does not attend, the responsible person must assume the difference. No Show: In case the passenger does not show up on the arrival date, it is non-refundable.
We are subject to weather changes or work stoppages/strikes, it is understood that if an activity is not carried out it will be changed for an equal or superior one.
We do not make refunds except for health with a medical certificate, death with a death certificate and pandemics (the refund is with a Travel voucher(*). There is no refund.
(*) Use of Travel voucher: Travel voucher can be exchanged for the contracted service. In case you want to make any change of community or destination, it must be prior coordination and additional payment that could be generated. The holder of the Travel voucher has a period of twelve months from the date of issuance, to decide on an option and carry out the exchange thereof. Considering that the reservation must be made with a minimum of one month in advance. This Travel voucher does not apply on holidays and public holidays in Peru.
Surcharges for holidays in Peru:
A 50% surcharge will be made to the total price for festive dates such as: Holy Week (Thursday, Friday, Saturday and Sunday), Labor Day (May 1), Inti Raymi (June 24), National Holidays (28 and July 29), Christmas (December 24 and 25), New Years (December 31 and January 1).
Tips for the trip:
Who is suitable to make this trip?
Eco-responsible traveler and lover of cultures, history and nature as a couple, family with children over 5 years old.
Difficulty level: Moderate
Maximum altitude: 1530 masl.