Misminay Experiential Workshop
Climate:
Experiential Workshop in Misminay
Reception and welcome with music and typical clothing by the Misminay Peasant Community in Moray. Then muña mate invitation (recommended due to height), and then continue with the walk for the ancestral ceremony (approx. 20 minutes). Next, there will be an experiential wool dyeing workshop with aromatic and medicinal herbs. Each tourist participates in this workshop and ancestral process. Finally, you will visit the local farm to support the agricultural area and hold a final thank you and farewell ceremony.
End of our services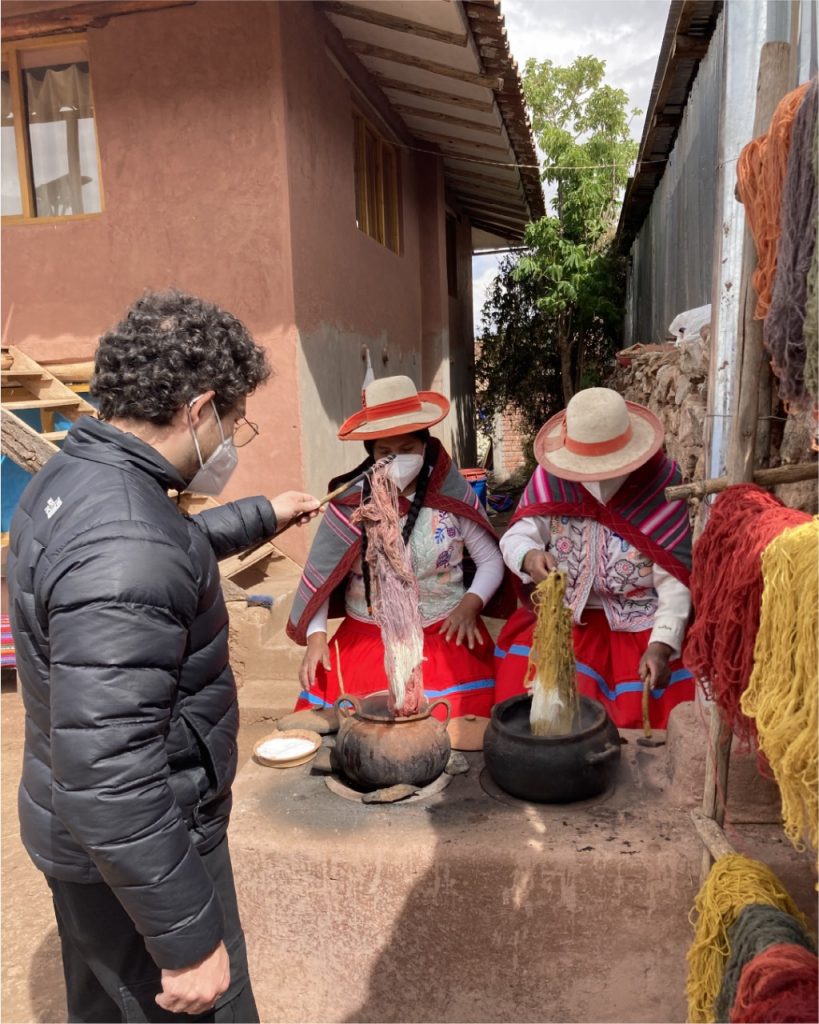 Terms and Conditions:
To reserve you need: complete information, date of birth, ID and/or passport, food requirements, among other details that are deemed appropriate according to the service.
The 100% deposit must be made before the travel date. (In case of special deadlines it is prior coordination).
Company data:
Company name: Naturaleza Sostenible Sin Fronteras SAC
RUC: 20550942179 – Tax address: Jr. Olmedo 537 int. A 302 Brena
Credit Bank of Peru
Savings Account in Dollars: 191 – 71499633-1-49
Interbank Account Code: 002 191 17149963314957
Bank swift code: BCPLPEPL
Note: Send payment voucher to email: liccet@nassftravel.com or WhatsApp: +51 971881685
The passenger accepts the terms and conditions at the time of making the reservation. In case of non-attendance, the traveler loses 100% (Non-refundable), date changes at least 30 days in advance. In the case of being a group or couple, if one of your companions does not attend, the responsible person must assume the difference. No Show: In case the passenger does not show up on the arrival date, it is non-refundable.
We are subject to weather changes or work stoppages/strikes, it is understood that if an activity is not carried out it will be changed for an equal or superior one.
We do not make refunds except for health with a medical certificate, death with a death certificate and pandemics (the refund is with a Travel voucher(*). There is no refund.
(*) Use of Travel voucher: Travel voucher can be exchanged for the contracted service. In case you want to make any change of community or destination, it must be prior coordination and additional payment that could be generated. The holder of the Travel voucher has a period of twelve months from the date of issuance, to decide on an option and carry out the exchange thereof. Considering that the reservation must be made with a minimum of one month in advance. This Travel voucher does not apply on holidays and public holidays in Peru.
Surcharges for holidays in Peru:
A 50% surcharge will be made to the total price for festive dates such as: Holy Week (Thursday, Friday, Saturday and Sunday), Labor Day (May 1), Inti Raymi (June 24), National Holidays (28 and July 29), Christmas (December 24 and 25), New Years (December 31 and January 1).
Tips for the trip:
Who is suitable to make this trip?
Eco-responsible traveler and nature lover as a couple, family with children over 5 years old.
Difficulty level: Moderate
Maximum altitude: 3700 masl